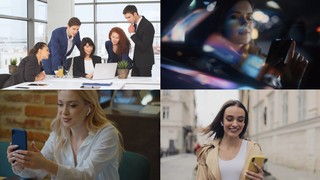 Podcast: What if Cloud Collaboration platforms were adaptive?
One of the challenges that the cloud communications community is confronting is the need to make the features that are being sold, more accessible and easier to use.
In this podcast, BroadSource CEO, Haydn Faltyn and CTO, Michael Gliana, talk about the BroadSource patented technology, Adaptive Cloud UC, which allows Cloud UC systems to adapt to subscriber behaviour without requiring explicit user intervention. It integrates mobile computing devices with Cloud Unified Communications systems. Faltyn and Gliana believe that Adaptive Cloud UC will give BroadSource clients a major offering because it makes the "network follow the user, instead of the other way around." From an individual user's perspective, fumbling around with logins and portals is replaced with simple, elegant and easy to mange experiences. We learn how these differentiated experiences will set the BroadSource community of service providers apart at a time when offering a non-commoditised product is more important than ever.
About BroadSource
BroadSource is a world leader in software development and engineering for the globe's most sophisticated telecommunications Service Providers, specialising in Cisco Collaboration technology. The team has eighteen years of design, deployment and software development experience. BroadSource solves many challenges that Service Providers face in managing and transitioning to their Cloud Unified Communications and Cloud Contact Centre solutions.
With offices in Melbourne, London, Seattle, Düsseldorf and Delhi, BroadSource delivers Products and Services to customers in Europe, North and South America, Africa and Asia.
Media enquiries marketing@broadsource.com.au